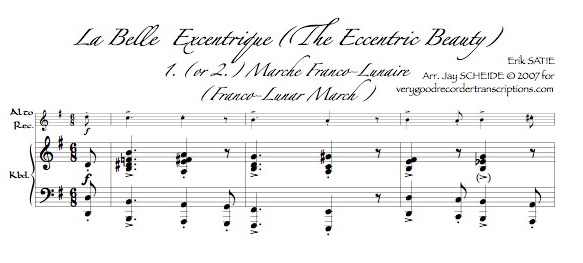 La Belle Excentrique (Fantaisie Sérieuse)
from:
Four movements: "Marche Franco-lunaire" (Franco-lunar March), "Grand ritournelle" (Grand Ritornel), "Valse du 'Mystérieux baiser dans l'œil'" (Waltz of the 'Mysterious Kiss in the Eye'), and Cancan grand-mondain (High Society Cancan) from "The Eccentric Beauty," (Serious Fantasy) of 1920, at original pitch, for small orchestra or piano duet. Recent research by the nonpareil Satie scholar Ornella Volta makes a strong case that the Grand ritournelle, long thought to be—and performed as—the first movement, was meant to be an intermezzo between each of the other three movements to give the dancer time to change costumes. So the correct order, at least for performance with dance, is: Marche, Ritornel, Valse, Ritornel, Cancan. However, tradition, and possibly purely musical considerations, especially in a non-dance situation, argue for the possibility of the old order: Ritournelle, Marche, Valse, and Cancan. Thus, that traditional arrangement is given as a viable alternative in this transcription. Contains some high F#'s and optional high A's that require advanced technique, or perhaps a modern recorder, such as a Moeck Ehlert.
Keyboard parts include separate recorder parts at no additional cost.
Showing the single result
Update Required

To play the media you will need to either update your browser to a recent version or update your

Flash plugin

.
Add to Cart