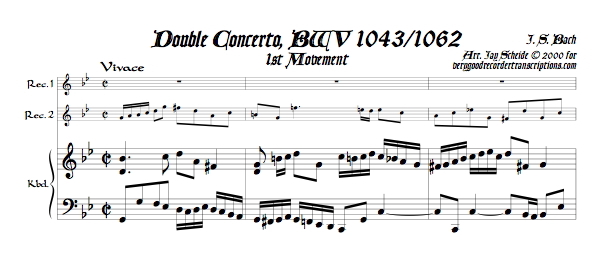 Concerto for 2 Violins, BWV 1043, all three mvmts., arr. for 2 recorders & kbd.
from: J.S. Bach - Concertos - for 2+ Keyboards/Violins
Originally in d minor transposed here to g. Newly revised and augmented with the 2nd & 3rd movements 8.29.16. The Concerto BWV 1062 was also used as a source. Both recorder parts have optional high A's and F#'s. Note on the second movement: the main theme contains grace notes in its 2nd measure which are featured only in BWV 1062 and which may be omitted (but of course this must be done on a consistent basis). See also a version for 1 recorder and keyboard under Pieces for Solo Recorder and Keyboard.
Showing all 1 result
Bach Concerto for 2 Violins, BWV 1043, arr. for two recorders and keyboard

$

3.00
Add to Cart