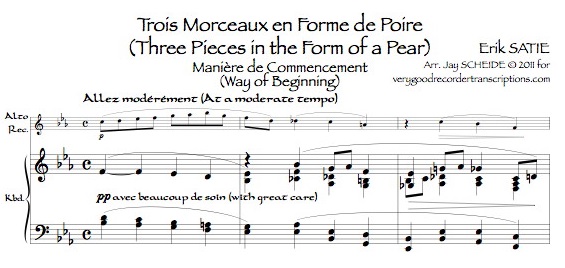 Trois Morceaux en forme de poire: "Manière de commencement" (AKA Gnossienne No. 7)
from: E. Satie (1866-1925)
Originally for piano duet, transposed here up a minor 3rd. Title means Three Pieces in the Form of a Pear: "Way of Beginning." There are in fact seven movements in this set—three "pieces" with two in front and two after. This is the first of the two that precede the "pieces."
Considered to be another Gnossienne to add to the group of six that were so titled.
Keyboard parts include separate recorder parts at no additional cost.
Showing all 1 result
Recorder & Keyboard part, 4+1 pp.

$

0.50
Add to Cart